Description
 12000mAh T6 Multi-function Car Jump Starter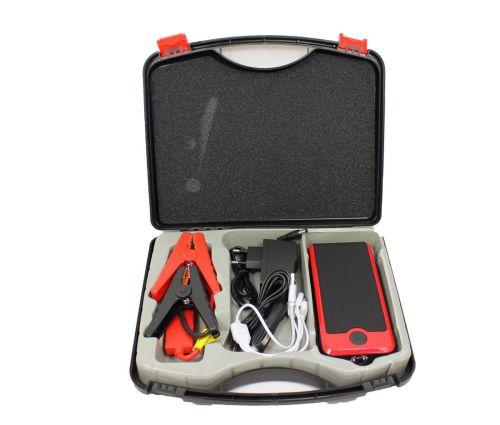 Application:
Lifesaving device: when you are traveling in some untraversed place, and your car battery is out of power, use this car jump starter to start your car.
And also power bank for smart phone and tablet. Never worry about your smart phone or tablet running low on battery ever again.
If your car won't start,you don't have to call a tow truck service for assistance.
A great travel companion that you can take with you on the go to charge all of your portable electronic devices.
If you are outdoors camping and find yourself in an emergency situation you can use the SOS signal light flash to attract attention
It's equipped with two 5V/2A USB ports that can charge two separate devices fast.

Function:
Easy to Start 12V gasoline car 
Charge for wide digital devices, such as tablet pc, mobile phone, camera
Multiple safety protection design to ensure zero defect products
Multi-mode, headlamp, SOS, table lamp, red alert, vehicle-mounted electronics  
Low-temperature start
Features:
12000Mah 12V high-capacity Li-polymer power station with 400A (peak) fashion portable rechargeable Jump Starter
Built-in Micro USB output cable for mobile phone charging
Built-in 1W LED light provides illumination in emergency situations on the road
Built-in 1W Blue and 1W Red warning light
4 LED indicator for charging and discharging
Overload and over-temperature protection
Short-circuit and anti-reversing charging protection
Over-voltage and low-voltage protection
Payment & Security
Your payment information is processed securely. We do not store credit card details nor have access to your credit card information.