Description
SPA 35K PCP Pump PCP Hand pump 35K. 3 Grades of compression , air filtration , folded pendulum feet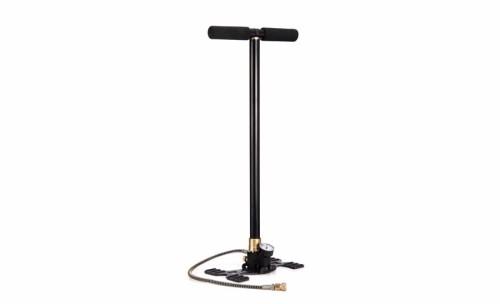 Specifications
Height: 650mm
Weight: 1.90kg
Intake Capacity: 235cc
Cylinder Material: Stainless steel
Pre-charged pneumatic (PCP) air guns are usually filled by decanting from an air reservoir, such as a diving cylinder or by charging with a hand pump. Because of the need for cylinders or charging systems, PCP guns have higher initial costs but much lower operating costs when compared to CO2 or regular pump guns. PCP guns have very low recoil and can fire as many as 100 shots per charge. The ready supply of air has allowed the development of semi and fully automatic air guns. PCP guns are very popular in the UK and Europe because of their accuracy and ease of use. They are widely utilized in ISSF 10 metre air pistol and rifle shooting events, the sport of Field Target shooting, and are usually fitted with telescopic sights.
Early hand pump designs encountered problems of fatigue (both human and mechanical), temperature warping, and condensation—none of which are beneficial to accurate shooting or air gun longevity. Modern hand pumps have built-in air filtration systems and have overcome many of these problems. Using scuba-quality air decanted from a scuba cylinder provides consistently clean, dry, high-pressure air.
Payment & Security
Your payment information is processed securely. We do not store credit card details nor have access to your credit card information.