Description
SEAGATE 1TB 3.5" SKYHAWK SURVEILLANCE HDD 64MB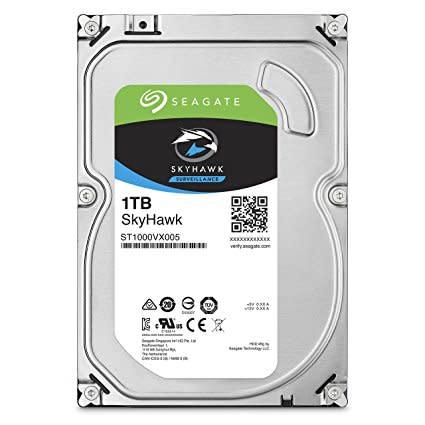 Description
Seagate SkyHawk 1TB 64MB Cache 3.5 inch Internal Surveillance Hard Disk Drive - SATA III 6 Gb/s Interface.

Product Overview
The Seagate [ST1000VX005] SkyHawk 1TB 64MB Cache 3.5 inch Internal Surveillance Hard Disk Drive is Smart, safe and secure that is optimised for DVRs and NVRs, SkyHawk surveillance drives are tuned for 24x7 video recording. Seagate SkyHawk surveillance drives are built to keep systems in the field longer and reduce the need for post-deployment support. They feature 3x the workload rating of desktop drives and can store many hours of digital HD video storage and supports an increased number of cameras and helps to ensure longer data retention periods are met.
Give yourself the ultimate peace of mind with SkyHawk surveillance drives and never miss a frame, even in harsh environments. SkyHawk's extreme workload rating, low power consumption and RV sensors can improve long-term drive reliability. SkyHawk can also reliably perform in operating temperatures — from 0°C to 70°C — while tarnish-resistant components offer further protection out in the field. It is outfitted with a SATA III interface and mounted in an available 3.5" drive bay. Other notable features include a very fastrpm spin rate and 64MB of cache to deliver a maximum sustained data transfer rate of 180 MB/s.
Best-Fit Applications
• Network video recorders (NVR)
• Embedded surveillance DVRs (SDVR)
• Hybrid surveillance DVRs
• Surveillance DVRs
Payment & Security
Your payment information is processed securely. We do not store credit card details nor have access to your credit card information.