Description
Pair of Photoelectric Beams - Indoor: 300m Outdoor:100m -Active Infrared Detector AB100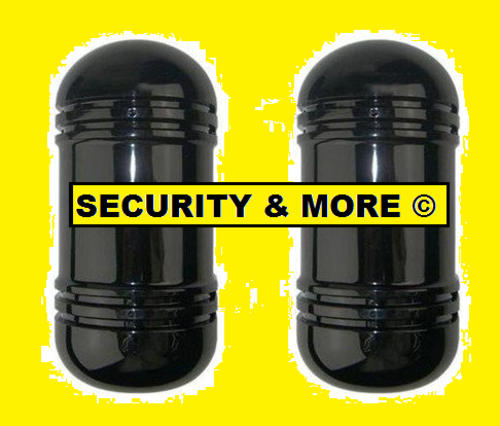 Active Infrared Detector AB150
Description


This is ABT-100 Alarm 2 Beams Infrared Photoelectric Detector. Integrated design, installation brackets, the most convenient installation. Holographic spot real-time report. Unique displacing receiving, transmitting parts with big power. Full function checking, self-adaption in environment and trouble locking. Patented balanced checking, unique digital filtering. 

Features:
Outdoor Distance: 100m

Indoor Distance: 300m

Beams: 2

Optical Source: Infrared digital pulse mode

Response Speed: 50-700ms

Alarm Output: NC&NO contact rating AV/DC 30V/0.5A

Alarm Output-bus: MA bus across wave carrier model

Current: 65mA

Crust Material: PC resin tin metal

Level Adjustment Axis: 180°± 90°

Vertical Adjustment Axis: ±10°

Tamper Output: NC contact rating AV/DC 24V/0.5mA

Housing Material: Polycarbonate

Features:

1) Intelligent power transmission: independent development of the chip can automatically sense ambient changes

According to the environmental conditions to automatically adjust to the radio's transmit power, greatly extending the life of the launching tube, while also lowering power.

2) Cable, bus compatible, holographic spot real-time reporting.

3) Full-function diagnostics, environmental adaptive, fault lock.

4) Digital Fuzzy Artificial Intelligence Identification: Using artificial intelligence fuzzy judgments, false positives to a minimum.

5) Patent coaxial dual focal length precision optical aspheric focusing lens.

6) dedicated DSP chip, patented multi-dimensional fault-tolerant, real detection alarm technology.

7) optical lens up and down while structural adjustments, to adjust faster and more accurate.

8) Professional CPU chips, strong anti-interference
Type of Packing: Color Box
Package Includes: User Manual, Holder
Something wrong with your parcel or not happy with a product?
We offer you 7 days following receipt to return your item back to us. All our products are covered by a minimum 6 month warranty unless otherwise stated.

We dispatch thousands of orders every week and hopefully there aren't many times you will need to return goods to us. Unfortunately of course sometimes things can go wrong, and if they do we like to make sure you can return your order as easily as possible.
We have a returns process in place which is fully detailed below. Our Customer Service team is also on hand to answer any further questions you might have.
How do I arrange a return?
For all items you wish to return please contact by telephone on 011-791-1009 or email info@securityandmore.co.za and follow the instructions to authorize the return of goods
.
Returning unwanted/non-faulty goods
Any item may be returned for any reason within 7 days of the date of receiving your order provided it remains in a saleable condition with original packaging. We will refund the price of the item after we have inspected the goods and confirmed the condition of the goods as appropriate for a refund.
Please note that, with the exception of faulty merchandise, we cannot accept software or goods containing software where the seal has been broken or the software has been registered. If any goods containing software that has been opened, used or registered are returned, a 25% fee will apply to compensate us for the loss of software element of the goods in question. This does not affect your statutory rights.
All returns will be booked by us with our dedicated courier, please insure that the returning products are wrapped in bubble or orginal box that it was sent with as to protect to parcel.
*If you selected the Pargo option for shipping we will send you through a waybill to be attached to the returning box, all you need to do thereafter is drop it back to the pickup point that you collected from.
If you are unhappy in any way with your purchase then please e-mail us at info@securityandmore.co.za or phone on 011 791 1009 and our customer service team will advise you on how return the product(s) safely back to us. You will be responsible for the cost of the return of the product and any associated accessories.
All goods should be packaged in a secure parcel to avoid damage in transit. Goods should be in their original unused condition, complete with all original items as below (as applicable) - any product that has been willfully damaged, scratched, neglected, modified or repaired shall be sent back to the customer at their expense:
Product in original undamaged box (including box inner's)
Product manual and literature
Mains charger, battery etc
CD-ROM software (if opened then re-stocking fee applies)
Security & More may charge the customer 25% of the cost of the device at the point of sale to compensate for time spent processing the return and restocking of the product.

Returning faulty or damaged goods
If your goods arrive faulty or develop a fault within the warranty period, you can either return them to us for repair/replacement, or contact the manufacturer directly, whose customer service teams can help fix many common problems over the phone or via email.
If you wish to return a faulty product to us, please first contact us to request an RMA form by telephone on 011-791-1009 or email info@securityandmore.co.za , then follow the instructions to authorise the return of your goods.
Most manufacturers will deal directly with customers who have goods under warranty, and as the experts on these items contacting them directly can be an efficient way to solve your issue.
Goods damaged in transit
Your goods should reach you in perfect condition, but if a parcel arrives partly or completely damaged you should write those issues directly onto the delivery note in the presence of the delivery courier. If no issues are raised at point of delivery, the parcel will be considered as delivered in good condition and no subsequent claims or complaints can be accepted by Security & More. After this, should you want to pursue any issues further with the courier, you must put in a claim in writing directly to the courier within 3 days (public holidays excluded) following the day of delivery.
Please be aware that comments on the delivery note such as 'Subject to unpacking/inspection' or 'Damaged box' have no legal standing; if you are not happy with the condition of your parcel and/or products, please refuse it on delivery. Send your photos (if available) by e-mail to info@securityandmore.co.za We will contact the courier and do our best to find a solution and get you your goods in proper condition.
Any unclaimed parcel that is returned to Security & More can be sent back to you provided that you repay the delivery fees.
If you have to refuse a delivery:
If refusing a delivery and sending it back to Security & More because the goods have been damaged in transit, please take photos of the damaged parts of the product, the whole parcel and the whole product(s). Also give a detailed description of the damage on the delivery slip.
Contact us on email at: info@securityandmore.co.za or call us on :011 791 1009 if you require any further information.
Payment & Security
Your payment information is processed securely. We do not store credit card details nor have access to your credit card information.