Description
Pair of Photoelectric Beams - Indoor: 300m Outdoor:100m -Active Infrared Detector AB100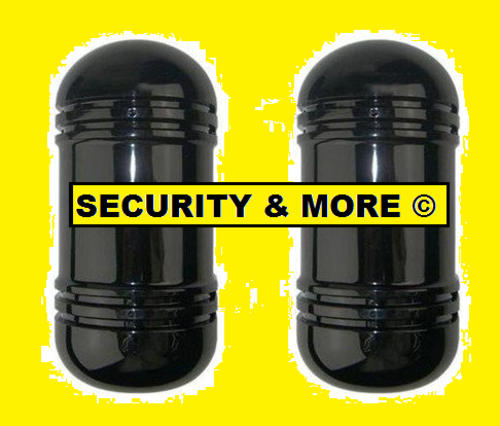 Active Infrared Detector AB150
Description


This is ABT-100 Alarm 2 Beams Infrared Photoelectric Detector. Integrated design, installation brackets, the most convenient installation. Holographic spot real-time report. Unique displacing receiving, transmitting parts with big power. Full function checking, self-adaption in environment and trouble locking. Patented balanced checking, unique digital filtering. 

Features:
Outdoor Distance: 100m

Indoor Distance: 300m

Beams: 2

Optical Source: Infrared digital pulse mode

Response Speed: 50-700ms

Alarm Output: NC&NO contact rating AV/DC 30V/0.5A

Alarm Output-bus: MA bus across wave carrier model

Current: 65mA

Crust Material: PC resin tin metal

Level Adjustment Axis: 180°± 90°

Vertical Adjustment Axis: ±10°

Tamper Output: NC contact rating AV/DC 24V/0.5mA

Housing Material: Polycarbonate

Features:

1) Intelligent power transmission: independent development of the chip can automatically sense ambient changes

According to the environmental conditions to automatically adjust to the radio's transmit power, greatly extending the life of the launching tube, while also lowering power.

2) Cable, bus compatible, holographic spot real-time reporting.

3) Full-function diagnostics, environmental adaptive, fault lock.

4) Digital Fuzzy Artificial Intelligence Identification: Using artificial intelligence fuzzy judgments, false positives to a minimum.

5) Patent coaxial dual focal length precision optical aspheric focusing lens.

6) dedicated DSP chip, patented multi-dimensional fault-tolerant, real detection alarm technology.

7) optical lens up and down while structural adjustments, to adjust faster and more accurate.

8) Professional CPU chips, strong anti-interference
Type of Packing: Color Box
Package Includes: User Manual, Holder
Payment & Security
Your payment information is processed securely. We do not store credit card details nor have access to your credit card information.