Description
Gamo Pellets 5.5mm Expander 250's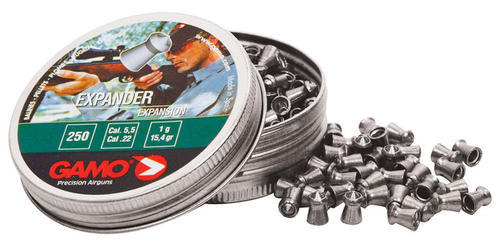 Gamo Expander Expansion

.22 lead air rifle hunting pellets.
This is a Spanish made pellet which offers excellent consistency, expansion and accuracy.
These are newly designed hunting pellet by Gamo.  The unique shape hits harder because it will expand on impact.
Features
•  Manufactured by Gamo in Spain.
•  Designed to give maximum shock and expansion while having the accuracy of a match pellet.
Specifications
•  Calibres: .22 in (5.5 mm).
•  Container: Screw lid tin
•  Units: Approx 250 pellets per tin
•  Weight:                .22   (5.56 mm)         14.2 grains approx
•  Suits velocity;        .22   (5.56 mm)          300 to1000fps          
Payment & Security
Your payment information is processed securely. We do not store credit card details nor have access to your credit card information.