20A Pwm Solar Charge Controller 12/24v
20A PWM SOLAR CHARGE CONTROLLER 12/24V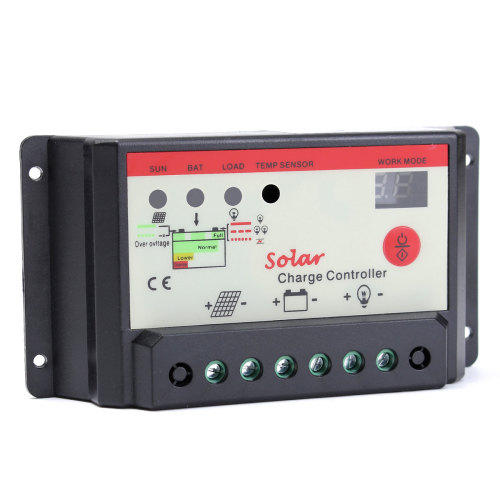 Description:
20A 12V/24V PWM Solar Charge Regulator Solar Panel Battery Controller 240W/480W
Features: 
Build-in industrial micro controller.
One-key setting, digital display.
Fully 4-stage PWM Charge management.
Build-in short-circuit protection, open-circuit protection, reverse protection, over-load protection.
Automatically manage the working of solar panel and battery in solar system.

Under-voltage and over-charging protection. Protection from lightning strike.
Prolong the battery life cycle and keep the load work well.
This controller can charge and discharge at the same time. It has perfect SOC function, control charge current, and supply power to the loads.
The controller will automatically compensate the temperature of the charging voltage according to the changes of ambient temperature.
Specification:
Battery Voltage: 12V/24V auto adapt
Current: 20A
Max Solar input: 41V
Charge drop: <0.2v
Discharge drop: <0.25v
Equalization: 14.6v/12v system, 29v/24v system
Bulk: 14.4v/12v system, 28.8v/24v system
Acceptance: 14.2v PWM/12v system, 28.4v PWM/24v system
Float: 13.8v/12v system, 27.6v/24v system
Charge reconnect: 13.8v/12v system, 27.6v/24v system
Discharge stop: 10.8v/12v system, 21.6v/24v system
Discharge reconnect: 12.6v/12v system, 25.2v/24v system
Self-consume: <10mA
Voltage of open light: Solar panel 8v(Light on delay 12v system), 16v/24v system
Voltage of close light: Solar panel 8v(Light off delay 12v system), 16v/24v system
Temprature compensation: N/C
Operating temperature: -35¿¿¿ -- +60¿¿¿
Size/Weight: 133*70x35mm/150g
Package includes: 
1 x 20A Solar Charge Controller
1 x User Manual
---
We Also Recommend