Description
GSM Auto-Dial Home & Office Security Alarm System
Product description:

Product Overview
Advanced wireless burglar alarm system with built-in tri-band 900/1800/1900 MHz or 900/1800MHZ GSM based auto dialer (voice and SMS alerts), and built-in NI-HI backup battery.
Offers full Remote Arming/Disarming/Programming/Real-Time Remote Voice Monitoring capabilities - all password protected! Works with a variety of wired/wireless accessories.
GSM based means it's almost totally immune to any blocking attempts - making it a highly reliable security solution!
Independent of any traditional phone line connectivity, it can be installed virtually anywhere!
Panic/Help Function! Allows to send an alert to medical personnel, or family members at the push of a button! (dedicated buttons - on the supplied remote controls)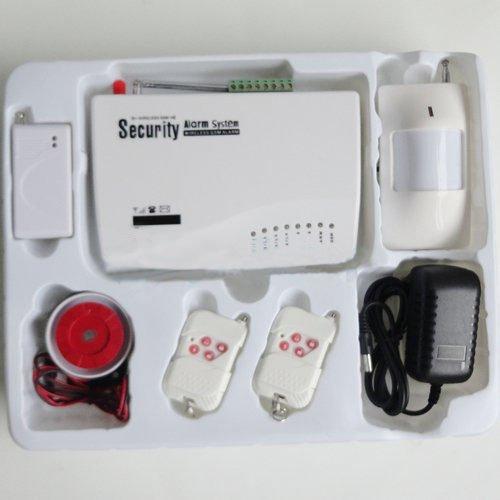 Operation Highlights
Supports tri-band 900/1800/1900 MHz GSM networks, with auto-dialer. SMS alert to 3 separate phones (detailed massage) & Voice alert to 6 phones.Customized Voice Recording Alerts (10 seconds) & SMS massages.
Supports 'unlimited' number of sensors, divided into 6 Wireless and 4 Wired distinguishable guard zones (many sensors can be paired to each zone)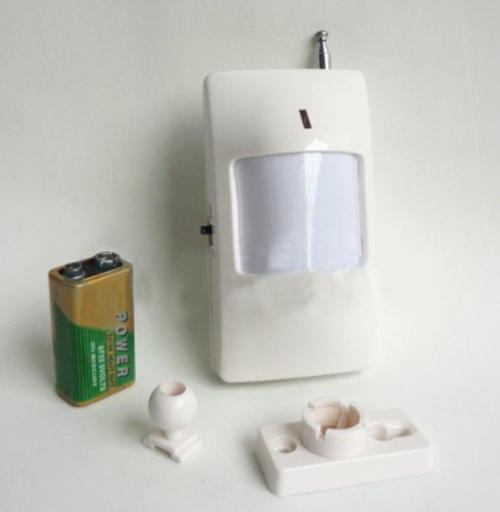 Technical Highlights
Tamper-Resistant system with low-voltage detection function, and automatic
wireless anti-interference protection.

Self-Test (on boot-up), including GSM Signal Pass/Fail indicator.


Built-in 7.4V NI-HI rechargeable battery (automatic backup on power outage) Non-volatile memory (eprom) retains your settings, even when power is off.


Wired-sensors can be connected to system! (may be important for specialized or non-battery operated accessories)
Learning-Code Technology provides digital temper-proof wireless signal,with longer range, and convenient setup (no jumpers to setup).
Highly integrated GSM alarm system, utilizing the latest in advanced DSP (Digital Signal Processor) and STC Microprocessor technologies.
High power, ear piercing 120dB siren.
Compact, cost-effective reliable system

Product Advantages
System Survivability!
GSM Network Based + Auto Backup Battery => means system can alert you as soon as it was triggered, even if both AC power and TEL lines to your property were deliberately cut off by an intruder!
Panic/Help Alert Function!
Allows to send an alert to medical personnel, or family members at the push of a button! (dedicated button - in the supplied wireless key-chain remote)As such it can be very useful for the elderly, young or otherwise disabled people.


Designed to work with your security systems, this battery-operated motion detector vigilantly stands guard looking for activity. When motion is detected (by a heat-sensitive Infrared sensor), this unit wirelessly activates the security system's siren and starts your auto dial!
Our motion sensors have built-in smart technology, they detect for both heat and movement. Motion sensors work 24 hours a day, which means they also work in the dark

Indoor Siren x 1pc


These sensors are used to protect the opening of both doors and windows. If a burglar opens the protected door or window, a magnetic switch inside the sensor, will trip, which sets off the security system. Install one at every entrance to make sure your home is protected. Each sensor is supervised (self-checking) for professional reliability and offers you choice in design and
performance.

Enter or exit your home with an easy and convenient way to arm and disarm your security system. With our easy to use key fobs, you will never forget to arm your security system

At 120dbs, this siren will not only alert the neighbors of the intrusion, but scare away the burglar right out of your house!
This piercing, plug-in siren can be plugged into your keypad/Console.It works with your system,responding to signals from an alerted Keypad/Console. No intruder will hang around when one of these sirens sounds!

Package Contents (*)

x 1 GSM Alarm System
x 1 Wireless PIR Motion Detector
x 1 Wireless Magnetic Door Sensor
x 2 Wireless Remote Controller
x 1 High Power Siren (120dB)
x 1 AC-DC Power Adapter
x 1 English User Manual
x All Batteries & Fixtures Included

System Specifications

Input DC Voltage : 9V-12V
Standby Current : <55mA
Warning Current : <450mA
Wireless Frequency : 433MHz !

GSM Frequencies : 2 GSM band 900/1800MHZ or 3 Band 900/1800/1900 MHz
Backup Battery : 7.4V NI-HI Battery
Alarm Loudness : 120dB
Payment & Security
Your payment information is processed securely. We do not store credit card details nor have access to your credit card information.