Description
GSM Auto-Dial Home & Office Security Alarm System
Product description:

Product Overview
Advanced wireless burglar alarm system with built-in tri-band 900/1800/1900 MHz or 900/1800MHZ GSM based auto dialer (voice and SMS alerts), and built-in NI-HI backup battery.
Offers full Remote Arming/Disarming/Programming/Real-Time Remote Voice Monitoring capabilities - all password protected! Works with a variety of wired/wireless accessories.
GSM based means it's almost totally immune to any blocking attempts - making it a highly reliable security solution!
Independent of any traditional phone line connectivity, it can be installed virtually anywhere!
Panic/Help Function! Allows to send an alert to medical personnel, or family members at the push of a button! (dedicated buttons - on the supplied remote controls)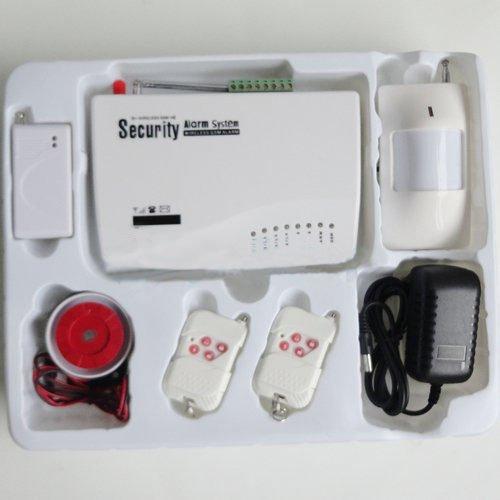 Operation Highlights
Supports tri-band 900/1800/1900 MHz GSM networks, with auto-dialer. SMS alert to 3 separate phones (detailed massage) & Voice alert to 6 phones.Customized Voice Recording Alerts (10 seconds) & SMS massages.
Supports 'unlimited' number of sensors, divided into 6 Wireless and 4 Wired distinguishable guard zones (many sensors can be paired to each zone)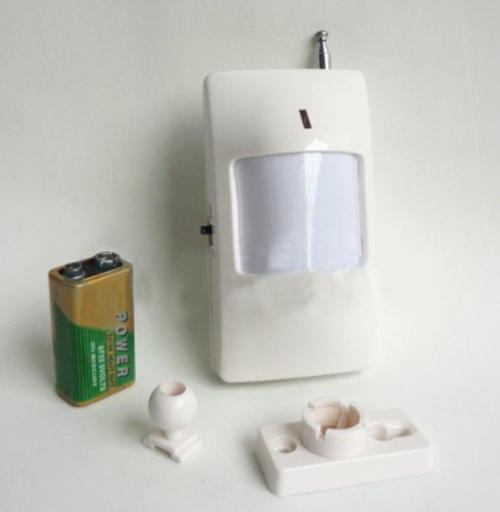 Technical Highlights
Tamper-Resistant system with low-voltage detection function, and automatic
wireless anti-interference protection.

Self-Test (on boot-up), including GSM Signal Pass/Fail indicator.


Built-in 7.4V NI-HI rechargeable battery (automatic backup on power outage) Non-volatile memory (eprom) retains your settings, even when power is off.


Wired-sensors can be connected to system! (may be important for specialized or non-battery operated accessories)
Learning-Code Technology provides digital temper-proof wireless signal,with longer range, and convenient setup (no jumpers to setup).
Highly integrated GSM alarm system, utilizing the latest in advanced DSP (Digital Signal Processor) and STC Microprocessor technologies.
High power, ear piercing 120dB siren.
Compact, cost-effective reliable system

Product Advantages
System Survivability!
GSM Network Based + Auto Backup Battery => means system can alert you as soon as it was triggered, even if both AC power and TEL lines to your property were deliberately cut off by an intruder!
Panic/Help Alert Function!
Allows to send an alert to medical personnel, or family members at the push of a button! (dedicated button - in the supplied wireless key-chain remote)As such it can be very useful for the elderly, young or otherwise disabled people.


Designed to work with your security systems, this battery-operated motion detector vigilantly stands guard looking for activity. When motion is detected (by a heat-sensitive Infrared sensor), this unit wirelessly activates the security system's siren and starts your auto dial!
Our motion sensors have built-in smart technology, they detect for both heat and movement. Motion sensors work 24 hours a day, which means they also work in the dark

Indoor Siren x 1pc


These sensors are used to protect the opening of both doors and windows. If a burglar opens the protected door or window, a magnetic switch inside the sensor, will trip, which sets off the security system. Install one at every entrance to make sure your home is protected. Each sensor is supervised (self-checking) for professional reliability and offers you choice in design and
performance.

Enter or exit your home with an easy and convenient way to arm and disarm your security system. With our easy to use key fobs, you will never forget to arm your security system

At 120dbs, this siren will not only alert the neighbors of the intrusion, but scare away the burglar right out of your house!
This piercing, plug-in siren can be plugged into your keypad/Console.It works with your system,responding to signals from an alerted Keypad/Console. No intruder will hang around when one of these sirens sounds!

Package Contents (*)

x 1 GSM Alarm System
x 1 Wireless PIR Motion Detector
x 1 Wireless Magnetic Door Sensor
x 2 Wireless Remote Controller
x 1 High Power Siren (120dB)
x 1 AC-DC Power Adapter
x 1 English User Manual
x All Batteries & Fixtures Included

System Specifications

Input DC Voltage : 9V-12V
Standby Current : <55mA
Warning Current : <450mA
Wireless Frequency : 315MHz
GSM Frequencies : 2 GSM band 900/1800MHZ or 3 Band 900/1800/1900 MHz
Backup Battery : 7.4V NI-HI Battery
Alarm Loudness : 120dB
Something wrong with your parcel or not happy with a product?
We offer you 7 days following receipt to return your item back to us. All our products are covered by a minimum 6 month warranty unless otherwise stated.

We dispatch thousands of orders every week and hopefully there aren't many times you will need to return goods to us. Unfortunately of course sometimes things can go wrong, and if they do we like to make sure you can return your order as easily as possible.
We have a returns process in place which is fully detailed below. Our Customer Service team is also on hand to answer any further questions you might have.
How do I arrange a return?
For all items you wish to return please contact by telephone on 011-791-1009 or email info@securityandmore.co.za and follow the instructions to authorize the return of goods
.
Returning unwanted/non-faulty goods
Any item may be returned for any reason within 7 days of the date of receiving your order provided it remains in a saleable condition with original packaging. We will refund the price of the item after we have inspected the goods and confirmed the condition of the goods as appropriate for a refund.
Please note that, with the exception of faulty merchandise, we cannot accept software or goods containing software where the seal has been broken or the software has been registered. If any goods containing software that has been opened, used or registered are returned, a 25% fee will apply to compensate us for the loss of software element of the goods in question. This does not affect your statutory rights.
All returns will be booked by us with our dedicated courier, please insure that the returning products are wrapped in bubble or orginal box that it was sent with as to protect to parcel.
*If you selected the Pargo option for shipping we will send you through a waybill to be attached to the returning box, all you need to do thereafter is drop it back to the pickup point that you collected from.
If you are unhappy in any way with your purchase then please e-mail us at info@securityandmore.co.za or phone on 011 791 1009 and our customer service team will advise you on how return the product(s) safely back to us. You will be responsible for the cost of the return of the product and any associated accessories.
All goods should be packaged in a secure parcel to avoid damage in transit. Goods should be in their original unused condition, complete with all original items as below (as applicable) - any product that has been willfully damaged, scratched, neglected, modified or repaired shall be sent back to the customer at their expense:
Product in original undamaged box (including box inner's)
Product manual and literature
Mains charger, battery etc
CD-ROM software (if opened then re-stocking fee applies)
Security & More may charge the customer 25% of the cost of the device at the point of sale to compensate for time spent processing the return and restocking of the product.

Returning faulty or damaged goods
If your goods arrive faulty or develop a fault within the warranty period, you can either return them to us for repair/replacement, or contact the manufacturer directly, whose customer service teams can help fix many common problems over the phone or via email.
If you wish to return a faulty product to us, please first contact us to request an RMA form by telephone on 011-791-1009 or email info@securityandmore.co.za , then follow the instructions to authorise the return of your goods.
Most manufacturers will deal directly with customers who have goods under warranty, and as the experts on these items contacting them directly can be an efficient way to solve your issue.
Goods damaged in transit
Your goods should reach you in perfect condition, but if a parcel arrives partly or completely damaged you should write those issues directly onto the delivery note in the presence of the delivery courier. If no issues are raised at point of delivery, the parcel will be considered as delivered in good condition and no subsequent claims or complaints can be accepted by Security & More. After this, should you want to pursue any issues further with the courier, you must put in a claim in writing directly to the courier within 3 days (public holidays excluded) following the day of delivery.
Please be aware that comments on the delivery note such as 'Subject to unpacking/inspection' or 'Damaged box' have no legal standing; if you are not happy with the condition of your parcel and/or products, please refuse it on delivery. Send your photos (if available) by e-mail to info@securityandmore.co.za We will contact the courier and do our best to find a solution and get you your goods in proper condition.
Any unclaimed parcel that is returned to Security & More can be sent back to you provided that you repay the delivery fees.
If you have to refuse a delivery:
If refusing a delivery and sending it back to Security & More because the goods have been damaged in transit, please take photos of the damaged parts of the product, the whole parcel and the whole product(s). Also give a detailed description of the damage on the delivery slip.
Contact us on email at: info@securityandmore.co.za or call us on :011 791 1009 if you require any further information.
Payment & Security
Your payment information is processed securely. We do not store credit card details nor have access to your credit card information.